Overview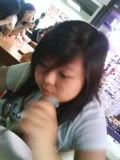 Indulge In Food
My Friendster Account which doesnt exists anymore
My Facebook Account
23rd Dec
Born and grew up in JB
Christian.
=)
[leave your msg at chatbox~ ]
Wednesday, October 24, 2007
I bet all of you have heard things like when you drop mentos into coke, the chemical reactions will make the coke burst out of the bottle. Here! If you've never heard/seen things like that before, i tell you, your very nice xy is gonna help you with that.
Now click on th video below and have a good laugh! There are just too many free people out there doing things we dare not do. Be really surprise how creative people can get.
I wish i were there too...hahaha have fun~
Thursday, October 11, 2007
hmmm
...people do change, right?
As we go on, many people come in and out of our lives...And it makes all
de
difference...We learn a lot from these people, have fun together, do crazy things together and act like immature idiots...But soon, very soon, they will leave and just
disappear
in our lives...Some may still keep in touch, but some will just totally forget bout who you are. All the sweet memories shared together seems nothing to them..A very sad thing right, but what to do.. That's
LIFE
...We fell down, and stand up right at the spot we fell..It's the only way to grow stronger, isn't it? I just hope that someday, when i look back at my life, i will have
no regrets
.
11.25 am, 12
oct
.2007
Monday, October 8, 2007
沒男士風度的男人最可惡! 不說了,總之,哼,去死吧~~
世界上怎么會有這樣的混蛋?!!
沒天理啊~~
Tuesday, October 2, 2007
The form 3s are having their PMR now. Hahaa, reminds me of those good old days, when we rushed out of the hall after each paper ended just to get more time to do revision for the next paper. And thanks to them, we, the lower six people, has ONE WHOLE WEEK of EXTRA HOLIDAYS!! I know you are jealous. Er hemm, just admit it.
And because of the boredom, I watched High School Musical 2 which I wanted soooooo much to watch but couldn't dig out an hour for it. It was sweet as it is suppose to be. About summer, party, loyalty and friendship.
I love every single song of that show. Zac Efron is getting more and more handsome, and i'd say most people think that he is drop dead cute! And the girl, what's her name again..oh ya, Vanessa Anne Hudgens! she's GORGEOUS. Not pretty, but GORGEOUS. Pretty people don't have cute personality, but gorgeous people do. At least that's what i think.
sweet huh...=)
The role Sharpay, erm I'm not sure what her name is but let's just call her Sharpay, is kinda funny. Maybe she is supposed to be a very evil girl, but I think she's just too proud of herself. Maybe beacuse everybody was giving her all their attention, especially in her family, and I guess that's why she became such a thorn. She's not so evil
la
, trust me. Parents fault. She has a good voice too, just that she always wanted to be the ONLY SHINING STAR in the school and was kinda afraid that Gabriella is gonna be more famous in East Coast High, that's why she acted like a jerk.
Ryan was a funny character too. He's Sharpay's brother, but I'm not sure whether is younger 1 or older 1. Should be younger brother la, or else he won't listen to her annoying sister everytime. Chad, the best buddy of Troy(Zac Efron) since pre-school, is kinda cute too.
Chad!! omg i love his hair.
Oh and the pianist. Cute one. Love her the most.
Sometimes i think musical is kinda funny. One whole bunch of people jumping out and dance/sing together out of nowhere. As for the storyline, er hem, sorry, go watch it on your own and you'll know.
And i've got prove! See, people dancing together out of nowhere
!
And the songs, i recommend "All For One", "You Are The Music In Me","What Time It Is" and "I Gotta Go My Own Way". Sorry for not posting up these songs. I couldn't find the code
lah
... But you can try to find those songs at
www.imeem.com
and you see a whole list there.
Enjoy!