Overview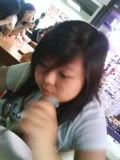 Indulge In Food
My Friendster Account which doesnt exists anymore
My Facebook Account
23rd Dec
Born and grew up in JB
Christian.
=)
[leave your msg at chatbox~ ]
Friday, March 28, 2008
有时候觉得,我真是个矛盾的人。
不甘于当个平凡人,却只想要拥有平凡的幸福。
不喜欢忙碌的都市生活,脚步却怎么也放慢不下来。
觉得人类很虚伪,却不知不觉成了那虚伪的一分子。
讨厌孤单,却不愿去寻找一双温暖可靠的肩膀。
朋友很多,能谈心的却又那么的少。
* * * * * * * * * * * * * * * * * * * * *
想哭的时候,还真是羡慕那些有肩膀可以靠的人。
多好,有个可以休息的港湾。
就算是只能暂时停泊,有个地方可以避避风雨有什么不好?
多想有个肩膀靠。
唉。
* * * * * * * * * * * * * * * * * * * * *
那天,朋友问我为什么不要去找一个男朋友。
哈哈哈哈哈哈。真是三八。
可能是我的择偶条件太苛刻咯。
我希望我的另一半是一个可以相处一辈子的人。
想像看,一对老公公老婆婆一起坐在阳台看夕阳的画面。
呵,多浪漫。
也要是一个有能力当好爸爸的人。
看到那种和爸爸关系很亲密的父子关系都会很羡慕。
一起看球,一起玩,一起闹。
还有,就是一定要和我有共同的信仰。
两个来自不同信仰的人,不只常常会意见分歧,还很容易因为一些小事而吵架,我不要。
很累也很辛苦。
要能够忍受和接纳我的缺点;欣赏我的优点。
包容我的坏脾气,对我体贴。
还要很有耐心,无聊时陪我吵吵架拌拌嘴;心情不好时听我诉苦还要开解我;得空时陪我聊天解闷。
要说话幽默,思想成熟,孝顺顾家。
生病时还要照顾我哦。
最好,是又帅又温柔又man。
* * * * * * * * * * * * * * * * * * * * *
我的一个男性朋友说,如果有这样一个男人的话,他一定马上变性嫁给他。
哈哈哈哈哈哈哈哈。笑死我。
我一定会找到的,你等着变性吧!
不过我绝对不会让给你咧。
哈哈哈哈哈哈。
* * * * * * * * * * * * * * * * * * * * *
最近有点情绪不稳。
会突然间不想讲话,对所有人都很不耐烦。
不要问我为什么,我不知道。
所以,各位,忍耐一下吧。
Wednesday, March 26, 2008
I was tagged by
Agnez
!
Remove ONE question from below, and add in your personal question, make it a total of 20 questions, then tag at least 5 people to do the same, list them out at the end of this post. Notify them in their chat box that he/she has been tagged. Whoever does the tag will have blessings from all.
1. Who is your all-time inspiration?
No in particular. Probably everyone around me. (hehe thats agnez's answer~)
2. Have you given your first kiss away?
Does family member count?
3. Whose blog do you love the most? Why?
Mine obviously. Cause it's mine! (evil grin)
4. Where is the place that you want to go the most?
Hawaii!! Got lots and lots of handsome guys and pretty girls there...hahahahaha...
5. If you can have 1 dream to come true, what would it be?
Ermmm...I can fly?
6. Do you believe in seeing a rainbow after the rain?
YES! Seen before for more than a thousand times...
7. What are you afraid to lose the most now?
Friends and family.
8. If you win $1 million, what would you do?
a) Buy a big new house, big new car...
b) shopping!! I want buy ALL Prada LV Gucci Guess etc etc new stuff in town!!
9. If you meet someone that you love / admire / like, would you confess to him / her?
Don't know...Hahaha...but most probably not. maybe will hint him abit through action or something?
10.List out 3 good points of the person who tagged you.
Agnez. She's sweet, hyperactive, nice, thoughtful, caring, ........
11. What are the requirements that you wish from your other half?
Loves God, trust-worthy, nice, gentle, cares for me, willing to listen to me and will always back me up.
12. Which type of person do you hate the most?
back-stabbers and double-masked
13. What is your ambition?
Anything that pays me more than 10k permonth. Hahahaha sounds rather impossible tho..
14. If you have faults, would you rather the people around you point out to you or would you rather they keep quiet?
Point out to me but not to embarass me infront of everybody.
15. What do you think is the most important thing in your life?
God, family, friends.
16. Are you a shopaholic or not?
I'm not so sure. Sometimes yes, sometimes no.
17. Find a word to describe the person who tagged you.
Nice.
18. If you have a chance. Which part of your character you would like to change?
Temper.
19. Whats the last shocking thing you've seen or heard?
Ermmmmm.....No i better not say it out.
20. If you can have one power what will you choose?
Become transparent. Hehehe...
i'm tagging: (sorry for tagging, but i'm just curious)
Jennifer
!
enough. =D
Monday, March 24, 2008
So, friends, I can now officially D-R-I-V-E!!!
I pass my driving test!!!!
Joy to the world!!!
While I was waiting for my turn, yu wen text me and asked how was my test.
So nice of her.
After my test, I text her saying: "walao......"
I did not mention whether I pass or failed.
Wanted to trick her and the whole class.
And this girl so smart and did not get tricked.
She replied: "Eh leh. Dun
jia si
la. Sure pass one then come and trick me. hahaha."
Smart fella.
Sobs, I didn't know I'm so lousy at tricking others. Gotta learn more from
Jennifer
, she's really good at it and I got tricked all the time.
I was thinking, oh well, never mind, only one girl knows I failed, maybe I shall trick the whole class tomorrow when I'm back to school.
But after a while she told me that the others knew I'm tricking them when I sms her the "walao..." thingy.
Again! Proven that my classmates are damn smart people.
Sigh.
Anyway, today is still a memorable day for me!
Thank God I pass, or else another 100 bucks will fly away from my wallet.
What a nice day~
p/s: sorry for not blogging bout the tioman trip. Will post it soon after I get those pictures we took. Oh and peeps, the
TeenStreet camp pictures
are up!
Monday, March 17, 2008
人际关系,有时真的很复杂。
根本就是剪不断,理还乱。
我的个案,更是前无古人后无来者的乱。
听听看吧.
所有字母先生女士都是我学校里的"家人"。
* * * *
Z女士是我在学校里的妈妈,是失散多年的妈妈。
X先生是我刚认回的生父。
W,Y,S分别是我的大姐,二姐,三姐。
在我认回父母前,S的身份是小妹。
好啦,现在认回了,可是大家依然称S为小妹。
那么要叫我什么呢?小小妹吗?
* * * *
说难听点,我其实是个杂种。
X先生,并不是W,Y和S的爸爸。
我应该没错的话是Z女士和X先生私生的。
* * * *
J女士是我认回生母前一直照顾我的人,简称养母。
X先生是J女士的亲弟弟。
那,X先生是我的爸爸呢,还是舅舅?
* * * *
W大姐的现任老公是K先生。
K先生是Y二姐的弟弟。
可是在认回生母前,Y二姐是我的干妈。
那K先生又到底是我的谁?
* * * *
S三姐是我班老大速配的情人。
当然,使我们这群同学的杰作。
老大虽没承认,但亦没否认过噢。
全班都叫他大嫂,包括我在内。
所以它是我的三姐,也是我的大嫂。
* * * *
目前的情况大概就是这样。几乎整家人都是双重身份或以上。
至于我在家中的排行,说真的,我自己也很乱,单是想都已经头痛得想撞墙。
人际关系,果然是一门很复杂兼深奥的学问。
不是吗?
Friday, March 14, 2008
I woke up very very early today. 6.30am on holidays is just way too early for me.
Note that
I DID NOT WANT TO WAKE UP THAT EARLY
.
Blame it all on that stupid + no skill newspaper deliver man!!
He threw the newspaper with all the strength he has and DANG!!
The poor newspaper flew and flew and crashed and boomed my front door.
The hard crash alerted the alarm system of my house, and woke the whole neighbourhood up.
So
embarrassing.
For your information, this is not the first time he did things like that.
The day before he just threw the newspaper on my new umbrella and spoiled it.
Few weeks ago I woke up and found the newspaper happily swimming in the small fish pond in my garden.
And there was once he delivered the newspaper UP THE ROOF!
I wonder what's next. The glass of my parents' car?
ARGGHHHH why his skills so lousy?! Why the company didn't train him properly before letting him become proper newspaper-deliver-man?!
Make me so
geram
.
Eeeeesssshhhh.
Wednesday, March 12, 2008
前一阵子,好多好多人生日喔。。。
钱包大大的出血,但是还蛮开心的。
收到礼物的人都还蛮喜欢他们收到的礼物,而且收到礼物的那一刹那都笑得很灿烂,很开心。
看到他们笑得那么开心,对我来说也算是一种满足感吧。
送礼,真的不是关乎礼物的价值的问题。
不一定贵的才是好的。
送对东西的话,就算是很便宜的小礼物也能够让人窝心很久不是吗?
我想我算是一个感性的人吧,看到别人开心自己也会很开心。
可是,能够带给别人快乐的人,不一定是快乐的。
而且私底下都还蛮忧郁的。
好几个朋友都是这样。
连我自己在内。
说真的,还蛮痛苦的。
日子一久,自己也分不清到底我是否在真心地笑。
红楼梦有一句话说:假作真时真亦假。
大概就是像我这样吧。
Monday, March 10, 2008
Received an email from Jacqueline the other day.
I laughed so hard and I think you should read it too~
It was SPLENDID.
XD
Enjoy!
__________________________________________________________
I recently read that love is entirely a matter of chemistry.
That must be why my wife treats me like toxic waste.
-
David Bissonette
When a man steals your wife, there is no better revenge than to let him keep her.
-
Sacha Guitry
After marriage, husband and wife become two sides of a coin; they just can't face each other, but still they stay together.
-
Hemant Joshi
By all means marry. If you get a good wife, you'll be happy. If you get a bad one, you'll become a philosopher.
-
Socrates
Woman inspires us to great things, and prevents us from achieving them.
-
Dumas
The great question... Which I have not been able to answer... Is, "What does a woman want?
-S
igmund Freud
I had some words with my wife, and she had some paragraphs with me.
-
Anonymous
"Some people ask the secret of our long marriage. We take time to go to a restaurant two times a week. A little candlelight, dinner, soft music and dancing. She goes Tuesdays, I go Fridays."
-
Henny Youngman
"I don't worry about terrorism. I was married for two years."
-
Sam Kinison
"There's a way of transferring funds that is even faster than electronic banking.
It's called marriage."
-
James Holt McGavran
"I've had bad luck with both my wives. The first one left me, and the second one didn't."
-
Patrick Murray
Two secrets to keep your marriage brimming
1. Whenever you're wrong, admit it,
2. Whenever you're right, shut up.
-
Nash
The most effective way to remember your wife's birthday is to forget it once...
-
Anonymous
You know what I did before I married? Anything I wanted to.
-
Henny Youngman
My wife and I were happy for twenty years. Then we met.
-
Rodney Dangerfield
A good wife always forgives her husband when she's wrong.
-
Milton Berle
Marriage is the only war where one sleeps with the enemy.
-
Anonymous
A man inserted an 'ad' in the classifieds: "Wife wanted". Next day he received a hundred letters. They all said the same thing: "You can have mine."
-
Anonymous
First Guy (proudly): "My wife's an angel!"
Second Guy: "You're lucky, mine's still alive."
-Anonymous
Sunday, March 9, 2008
Stupid.
You know what?
I failed my driving test. T_T
Failed at the very first part of the panjak bukit session.
The damn vehicle did not pass the yellow box where it has to stop.
Those who took the exam before knows what I'm talking about.
I have two chances, but I did terribly for both.
I was like: "shiiiiiiiiiiiiiiiiiittttttttttttt" when I failed. Sobs.
Blame it on the rain! It was raining heavily and i couldn't really see where to stop.
And you know what happened next.
Luckily the on-the-road test was fine.
But still very unhappy with my performance.
Hng hng hng....
I want a bear hug~~
Friday, March 7, 2008
SO, I shall blog about my bestie, who turned 18 on 5th March!
Everybody, meet
JENNFIER
!
But I prefer to introduce her in Mandarin.
Sorry my fellow banana readers. =P
很好人的一个女生哦。
中一就认识她了,是我在中学生涯中最早认识的好朋友之一。七年咯,当好朋友第七年了。
不过我相信在彼此心目中的地位应该都不只是好朋友而已吧。
她是第一个带我回家过夜的人噢~
从那一次开始就常常会去她家过夜,次数频繁到连我都记不清了。有时候是因为教会有活动到很晚,有时候是因为没有交通回家,还有很多很多的原因。但是不管是什么原因,他们一家都会很好心的收留我。有时甚至会连住几天,住到连家都不想回。哈哈哈哈。
然后和他的家人混烂熟之后更是常常到访。放学后也会跑过去玩,然后又去她家附近的熟食中心吃刨冰。顺带一提,那档 ice kacang 还真不是普通的好吃哦!上面淋有浓浓的一层巧克力,连不好此物的我也为之倾倒。
哦还有,她看起来是个很沉默的人,可是混熟之后却完全不是那么一回事。说话很毒,每一句都刺中要害;心情不好的时候连我都不敢靠近她;心情不错的时候会整人;心情好的时候则会烦身边的人。
功力深厚的她随时可以把你烦得想撞墙。
不是你自己撞哦,是推她去撞。哈哈哈哈哈哈。不过我目前为止都控制得很好,撞墙事件还没发生过。
噢,还有,她很爱喝我妈煮的腐竹薏米糖水。中文程度有待加强的她,竟然把腐竹薏米误会成腐竹玉米。如果是玉米的话,味道应该还蛮吓人的吧。
很好心的一个人噢,自从靠到驾照以后常常载到处窜。
今年是她第一次不在马来西亚过生日哦。目前在澳洲求学的她,还不太适应那儿的环境呢。
祝你一切顺心咯,珍妮花!我会为你祈祷的。爱你哦! =)
Thursday, March 6, 2008
3rd of march is definitely a big day for both
JENNIFER
and me.
As for Jennifer, it's her 18th BIRTHDAY!!!!
Happy Birthday darling, hope you are doing fine at aussie. I know you are so home sick and you missed me alot. Didn't you? =)
Will blog about her in the next post. The little emo girl i've known for 7 years.
And as for me, it was the day of my first semester test!
Guess what?
I have four papers, at one go, in one day.
Crazy school. Bluh.
Chemistry was a total killer. Only 3 long structure question, but most of us cant even answer one of the questions. Including me. I flip through the question and completely gave up.
And I heard many people giggling at the back. Hahaha I guess the whole class were stunned by the super tough question.
Oh and this is, I guess, first time ever in the history, that everybody sleeps during the paper!
Cause if you don't understand the question and have totally no idea on how to solve it, why waste your time thinking about the question? It wont help anyway.
So the only thing that worth doing is, S-L-E-E-P!
Plus, my chemistry teacher is a total sucko who nevert teach properly.
Nobody understands what he said in the class. His English+Melayu language is a total pain.
Plus, he only use power point presentation as his teaching materials!!
If forcing us watching those idiotic video clips is considered as teaching, then i think anybody in the primary school can be our teacher.
Damn sick. Bluh.
Don't think I'll pass this paper, that'd kinda be a miracle if screwing the question can make you pass. Hahaha.
Oh and, i'll have my proper driving test on monday, 10/3/2008.
BIG DAY for me!
Pray pray pray for me. =)
Somany tests these days. Arggghhh!!!