Overview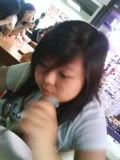 Indulge In Food
My Friendster Account which doesnt exists anymore
My Facebook Account
23rd Dec
Born and grew up in JB
Christian.
=)
[leave your msg at chatbox~ ]
Monday, January 21, 2008
Many things happened, unexpectedly, to some of my friends lately. It feels miserable when you see them in deep pain but you can't do anything to help them through.
I felt so useless.
The only thing I can do is pray for them, pray that God will ease the pain and hope things will be fine soon.
I'm not good at consoling people, not even able to comfort them properly.
I feel so terrible. ARRGGHHH.
But but but today I met up with my
Jie Jie
!!
He was seating at Hutan Bandar with some of my classmates eating his lunch.
I was super shocked to see him there, never expect him to appear. Hahaha.
That's something really makes me feel so excited, after like, more than a year since we last met up with each other. He looks so different now, and according to him I still look the same.
If you click on the link above, you will notice that my jie jie is actually a guy, hahaha but I used to call him jie jie since Form 4. Don't ask me why, it's a very long story.
Nothing much to talk about him actually, but just wanna share the joy of meeting up with somebody that cares for you but lost contact for quite some time.
He still cares for me as he always did. And he said I slim down a bit edy compared to Form 5! So sweeeeeeet of him though I know it wasn't true.
Hmmm but wonder when are we going to meet up with each other again. He seldom come back to Malaysia since he's studying in Singapore now. Haiz...
Anyway...I still thank God for the short meet up!
All the best in Singapore yea, jie! =)
Sunday, January 20, 2008
Our beloved
Vanessa
is going to Australia this Tuesday, 22nd of January. Might be migrating there since all her siblings are settled down in Melbourne.
Gonna really miss her alot
lorh
... As you know, she's always the little monkey in our church who jumps around screaming here and there and spread the laughter all over. Not saying that she's very annoying, but how many people actually do that when they are already like, 17 years old?
She's always the helpful girl, trying to help as much as she could. She loves screaming "xiang yi!!!!" whenever she sees me walk by. Kinda embarassing, hahaha, but now I wish that I could hear her scream my name once again. I gotta wait for
ONE MORE YEAR
still she returns.
I'm gonna miss her laughter, her jokes, her voice and of course, her room. Have been staying over for God-knows-how-many-times. Hahaha.
What a special friend I have! I really thank God for the time we spent together.
Jia you
nessa!!! All the best in Aussie!!!!!! and I will miss you. Alot. T_T
Wednesday, January 9, 2008
There is a co-curriculum fanatic in my school. He's a teacher b the way, oh and let's call him,erm, Mr. R. If you are from the school that I'm stucked in now, you'd know who am I talking about. His crazy ideas often make the entire school suffer.
First of all, he made a new school rule (on his own) that anything other than sports are not counted as co-curriculum (KK) and therefore thou shall not ask for extra KK marks. If you help teacher to type certificates (where that particular teacher promised to give you extra marks), dream on if you think you can claim extra marks from him. He'll give you all kinds of reason that it is not part of KK, etc etc, and worse still you will get scolded by that maniac if he's in a bad mood.
Yes, we wonder, what is inside his mind. Must be human waste I tell you!
oh oh and, this crazy fella FORCED us to buy a new KK shirt. I couldn't stop laughing when I saw him in that new shirt that we have to buy.
You know how the collar T looks like? Here it goes:
Red body (think of our national flag's blue)
Blue sleeves (also national flag's red)
Yellow collar. ( and think of national flag's yellow again)
HEELLLLOOOO ah pek, can your taste be suck-er?
No wonder my friend say it looks like our national flag. He's so
damn patriotic.
Awww how we
love
that shirt.
And all clubs are
NOT
allowed to print their own club T-shirt!
According to the new PPD's rule, we have to wear KK shirt on Wednesday, which means, we the pathetic students MUST wear this sick ugly patriotic shirt, every single Wednesday!!
Imagine, we have to wear that sucking shirt every Wednesday.
Imagine again, whole school wearing it.
Babi betul....
I don't mind wearing KK shirt, but I think this shirt is a piece of clothe that you won't even want to use it to wipe your toilet bowl.
DAMN SICK YOU ASS HOLE.
sorry for being rude. I don't really wanna say that word but he made me.
Now the whole school is freaking out, thanks to this new KK shirt. Happy lah now you babi?
Sunday, January 6, 2008
Today is
definitely
an exciting day for most of the youths who came for youth connections 2008 at
JB
Wesley
Methodist
church.
Ah kee and Edwin "tapao" chicken rice for us and Aunty Joyce made us yummy tuna sandwich for lunch.
We definitely enjoyed ourselves during lunch time!
Had so much fun with the rest of the youths. The lame people and their lame jokes that can freeze you to death. hahaha...
This is the first time that so many new people joined us, since the older badge went overseas to further their studies.
God listened to our prayer! We prayed so hard last year that God will send more of the youths to join us in the fellowship and God, as faithful as always, answered our prayer!
Praise be to God, man! His love is so amazing!
Hope that our youth fellowship will continue to grow stronger and more people will come and join us.
God is great! Amen!
=)
Thursday, January 3, 2008
Cookies from Germany!! The topping is a little bit sourish, but it still tastes good! yum yum!
Mom's student just came back from Germany after visiting her Grandma there.
I think her grandma baked these cookies. Sooooo cute right?
After I ate half a packet of the cookies only I realised I haven't take any picture of it. Some other shapes like christmas tree and etc is already in my tummy. Hahaha but at least I managed to capture a few, good enough lah...
Cookies cookies cookies! Wonder if Cookie Monster loves this kind of cookie. Hahaha...