Overview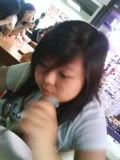 Indulge In Food
My Friendster Account which doesnt exists anymore
My Facebook Account
23rd Dec
Born and grew up in JB
Christian.
=)
[leave your msg at chatbox~ ]
Friday, June 26, 2009
刚刚重看了《叶问》。
毋庸置疑的,是一部好戏。
而且,是在我生日的第一个小时内看完的哦。
很美好,也很特别的回忆。
当然,也勾起了很多很多中六毕业旅行的回忆。
当晚,一群人看完半夜场找不到商场的出口,到处乱晃,好不容易才找到回酒店的路。
我还记得那天的星空,很美。
是因为有一群好朋友在身边吧。
什么都特别美。
时间真的过得很快吧?
在我们还没察觉到前,就悄悄地从指缝间溜走。
两年了。
两年前的我,才刚开始认识这一群朋友。
好快,又要各奔东西了。
希望距离真的不是阻碍,可以让每一份友谊都延续下去。
但是我知道,不可能。
别离的愁滋味,我尝过,经历过。
但是还是无法适应。
如果,天下有不散的宴席该有多好。
就不会有那么多的别离,那么多的感伤了。
看到这一篇东西的朋友们,请照顾好自己。
四年后,当大家都毕业了,有空了,再出来聚一聚。
这四年里,要想我哦。
我也要,开始往我的下一站迈进了。
虽然和当初的理想不同,但是我会尽力做好我该做的事,读好我该读的书,尽好我该尽的责任。
然后,再疯狂的,回到青春一次。
Thursday, June 25, 2009
So, yesterday was the last day of my teaching career. My standard 6 boys bought me a really stupid gift for me but the words they wrote on it really touched me.
Sorry if you cant read Chinese, I'm just way too lazy and tired to translate it now.


And FYI, I'm leaving JB for Melaka this Sunday cos uni starts this Sunday.
So I was busy certifying all the documents and doing all the preparations, medical check up and etc.
It's so so so frustrating and I'm totally exhausted after 2 long days of running here and there.
Lucky its almost done now, thank God.

Then comes the best, or the worst part.
THE GRAND PACKING DAY!

The war zone , area of devastation, chaos , confusion , crisis zone, desolation, disaster relief area, earthquake zone, emergency area, flood zone, havoc, hot spot, path of destruction, scene of destruction, storm center, whatever you call it.
I still call it "my lovely peaceful comfy and harmony bedroom".
And mind you, its only DAY 1.


Ta-dang!! DAY 2!
Seems like the more I clean and pack the greater havoc I create.


my writing table is none better than my room.

I must settle everything by this week and its seriously killing me.
oh God.
I am beginning to wonder did i pack too much unnecessary items.

ok enough blogging. Back to packing =X
Sunday, June 21, 2009
终于慢慢接受了自己要去马六甲读大学的事实了。
一直都觉得,好不真实哦。
大学?我吗?那么快?我那么快就要进入人生的最后求学阶段了?
越想就越不敢相信。
唉。
要离开家,离开教会,离开自己熟悉与喜爱的一切,跑到荒山野岭区受苦。
唉。
真舍不得。
知道自己拿到这一科的时候,心里并不怎么开心,毕竟和我想读的科系差了十万八千里。
但是看到我身边的人每个都为我感到开心与骄傲,就开始会想,或许,这是神的祝福吧。
像Jenn说的,thank God for what I have...pray and ask God if that's where He's leading me...
I guess all I have to learn now is to trust and obey, and have stronger faith in Him.
谢谢所有关心我,安慰我与鼓励我的朋友。
真的很感动。
谢谢从新加坡打电话来从头到尾解释这一科给我听的Youth counsellor Ah Kee,带我去喝茶的友杰和健子,sms来的好朋友们,evan ,在远方的jenn jenn,一直很关心我的教会的aunty uncle们,还有打来关心我的Jon。
谢谢大家,我会很珍惜很珍惜这一份关心与祝福的。
Last but not least, Thank you God!! I know I'm blessed and I'm your beloved child. =)
Friday, June 19, 2009
So the list of Uni is out. And I got this stupid course called ELECTRICAL ENGINEERING (INDUSTRIAL POWER).
I feel like shit. Shit shit shit shit all the way and still shitting.
What the hell is wrong??
I DID NOT APPLY THIS DAMN COURSE CAN? I AM TOTALLY NOT INTERESTED IN ENGINEERING OK?
Anyway, anybody got any idea on what the hell is this?
Industrial power, as in what???
I totally freaked out when I found out the results.
Dear God, is that what you want me to do?
I feel damn pissed. Dun talk to me.
Friday, June 12, 2009
My favourite Christian song for now, is definitely " In Christ Alone".
I cried so hard during Teenstreet when the band sang this song.
Heard this song so may times before but that's the first time I cried. Perhaps I was touched by the Holy Spirit?
The lyrics are beautifully written, and I could somehow feel that God is speaking to me through this song. Have been looking for the finest version and this is the one I love the most.
Enjoy =)
In Christ alone, my hope is found,
He is my light, my strength, my song.
This cornerstone, this solid ground,
Firm through the fiercest drought and srtorm.
What heights of love, what depths of peace,
When fears are stilled, when striving cease!
My comforter, my all in all-
Here in the love of Christ I stand.
In Christ alone, Who took on flesh,
Fullness of God in helpless babe!
This gift of love and righteousness,
Scorned by the ones He came to save.
Till on that cross as Jesus died,
The wrath of God was satisfied;
For every sin on Him was laid—
Here in the death of Christ I live.
There in the ground His body lay,
Light of the world by darkness slain;
Then bursting forth in glorious day,
Up from the grave He rose again!
And as He stands in victory,
Sin's curse has lost its grip on me;
For I am His and He is mine—
Bought with the precious blood of Christ.
No guilt in life, no fear in death—
This is the power of Christ in me;
From life's first cry to final breath,
Jesus commands my destiny.
No power of hell, no scheme of man,
Can ever pluck me from His hand;
Till He returns or calls me home—
Here in the power of Christ I'll stand.
[This cornerstone, this solid ground, firm through the fiercest drought and srtorm.]
Wednesday, June 10, 2009
因为每个人的容忍程度都不同,所以玩笑不要开得太大。
就算平时看起来很豁达的人,惹上了,也是死路一条。
现在我学会了。
对不起,很多时候,说了也白说。
唉。
只能怪自己入世未深,天真地以为每个人都和我一样开得起玩笑。
现在我懂了。
I've learnt my lesson and shall never repeat my mistakes again.
[看来我离开单纯的我,又远一步了。]
Friday, June 5, 2009
Just came back from Teenstreet yesterday. It was awesome!!
I believe a picture says a thousand words! so just count the number of pictures I posted here and times with 1000.yupp.
The first night:
Random. Hahaha.
I forgot what we intend to pose at first but the outcome was great anyway. hahaha.
Piggy back!!! The first time Elyssa tried to hop on me but accidentally jumped over my back and failed terribly.
DAY 2:
Jack with his cowboy hat while Jonathan and Jared were pretty amazed by that. lol.
When the kids are having fun at the field, we were camwhoring at the basketball court =)
[from left: Elyssa, Manson, Jared, Crystal, me, Sara.]
They had the craziest ever scissors paper stone game up in the TS prayer room at night. Definitely and eye-opener for many of us, no?
While me and Eric was trying very hard to sell the TS items away! sorry la both of us are camera shy.
Day 3:
We visited the Saling home of mentally disabled kids.
I had a really hard time controlling my tears. They are pretty in His sights. The very least we can do is visit them more and pray for them.......