Overview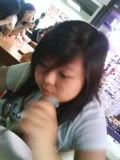 Indulge In Food
My Friendster Account which doesnt exists anymore
My Facebook Account
23rd Dec
Born and grew up in JB
Christian.
=)
[leave your msg at chatbox~ ]
Friday, May 30, 2008
我们这一班,又出去玩了哦!
这一次是去龟咯岛,两天一夜。
我们这一班的有巧双,我,老大,诗杰,友杰,咸辉,主办人义翔,景龙(不知道是不是酱写,随便啦)和家豪。
还有隔壁白哟班的文萃,佳仪(也不知道是不是酱写,将就一下啦~)和凯倩,再加上文科班的文祥和尼库拉斯,还有以前SAB的四个女生。
一行十八个人,浩浩荡荡的就往目的地出发了。
疯狂的是,在出发的前一晚,我和佳仪跑到义翔家里去----学-做-寿-司!
义翔说要请大家吃的
第一个步骤就是要切-黄-瓜~
不是用普通的刀哦,是用肉贩砍肉的那种杀牛刀!!!
不过可能是因为刀不顺手,黄瓜和鳄梨切得还真是有点畸形。

然后,师傅示范如何卷寿司,我就在旁边细心的学。

说了你也不会相信,我第一次卷的寿司竟然被师傅的母亲称赞!!
开心到~~
后来卷得有点腻了,就把这个重大的责任丢给佳仪,自己跑去用义翔的msn账户跟朋友聊天。
嘿嘿~现在才知道来盗用身份是这么好玩的一件事~

聊着聊着,百无聊赖又跑回去继续做寿司。不过这一次,做的是军舰寿司,也叫做握寿司的那一种。
不是我要说,虽然有点不要脸,但我们做的寿司真的是超------漂亮的~
哈哈。我和佳仪还想说开一件寿司店,她做卷寿司,我做握寿司。

到最后只有我们两个苦命的女生在拼命做,师傅一直只是在"看"!
本来我们只是要去"学"的耶。
有种被欺骗的感觉~
好一个师傅。

快十二点的时候才大功告成。
义翔老豆开着一辆不懂谁的老爷车轰隆轰隆地载我和佳仪回家。
真的是轰隆轰隆的哦。

在去kukup的一路上是high到~
不过有人被骂说很吵。真是可怜他。
出来玩不能够吵的话,那干吗还要出门?!
在家不是安静咯。
不过大家还是管不了那么多,继续疯到龟咯去~
哈哈。

下午就一直在打牌打麻将。
我第一次打麻将的经验哦~
多亏有家豪,一直很耐心的在教我。
不过,他竟然叫我打出一张别人要的牌,结果给景龙糊了!!

等海水涨潮了,一群人又浩浩荡荡的往海边出发钓鱼去!
回用鱼竿的就用鱼竿钓,没有钓竿的人就用诗杰很可爱的方法钓鱼--把鱼线绑在一个plastic圈上,然后绑上浮标,鱼钩和鱼饵,就可以开始钓了!
本人觉得这个方法还真的挺不赖的,因为我就是酱钓到了一条鱼!
开心开心~
不是每个人都有钓到鱼哦。
印象中只有老大,咸辉和我有钓到,然后凯倩钓到水蛇,景龙钓到超经典的东西--鱼网是也!
笑到我肚子痛。

晚餐有很丰富的BBQ大餐,东西多到吃不完。
男生一直在烤,女生一直在吃~
然后zink拿出女生的最爱--仙女棒!!
一群人就在屋子前面玩了起来。
然后还有哪个不懂叫什么的爆竹,一点火,丢出去,然后就会噼里啪啦的响,外加美美的火花的那种。
友杰竟然把爆竹丢上屋顶,然后等爆竹自己从屋顶滑下来,跌进烂泥里。
然后噼里啪啦的火花爆出来,超美的。
剩最后一颗的时候,某人一不小心爆竹丢得太猛,来不及滑下来就已在屋顶上噼里啪啦的爆开来。
如果晚上下雨屋子漏水,肯定是他的杰作。

吃饱了又k歌。
老大终于唱歌了哦。
还蛮好听的。
虽然他自己一直觉得很不好听。
哈哈。
老大特别推荐这一首歌,叫做英勇戰士搖搖頭,by糯米糰。
老大有唱哦,不过CD有点笨,一直hang。
根据老大的说法,这首歌是"废到没有路"。
蛮好笑的一首歌。哈哈哈哈哈哈。





然后,又是打麻将打麻将打麻将。
景龙第一圈就很开心的喊:"糊了!!"
然后大家一起看他的牌。
看着看着,大家都觉得好像那里不对。
老大喊了出来:你吃诈糊!
景龙不可置信的重看他的牌一次。
果然是诈糊!!
整桌的人笑到肚子痛,脸部肌肉严重抽筋。
不愧是续友杰之后的最佳笑匠,真是有够强的。

我和凯倩、巧双在房里拍了些超搞笑的的照片。
本来只是在玩爽的,不懂谁说要拍起来,结果就拍了。

我要往上爬~
真是疯狂。哈哈。
夜深的时候,友杰进我们房间表演了一段毛毛虫舞蹈。
不知道为什么他突然有点心情不好。
其实是知道啦,不过很长,懒得写。
不过重点在毛毛虫舞。
两个字--精彩。
不对不对,应该是--爆笑。
他不让我放上来,所以如果你想看的话,跟我说一声吧,我send给你。
贴心的他还帮我们铺床哦!
吃饱饭后也是他和景龙在收拾残局。
真是辛苦了。
谢谢你啦,
新好男人
!
地头蛇zink带我们去一件很远的店吃炸雪糕哦。
刚冲好凉出来,又走路走到整个背后都是汗。
还真的是够远的。
不过是真的好吃到~
等的人很多,吃的人也很多。
因为真的很好吃。
再累也值得。
两天一夜的龟咯之旅很快就结束了,超级无敌舍不得的说...
不过玩得真的很开心。
真的很爱这一班朋友。
有机会还要再出来玩哦!!
Saturday, May 24, 2008
如果我从小就不读书
如果我一直以来的成绩都不好
压力会否少一些
生活会否简单一点
人生会否快乐一些
发自内心的微笑,会不会多一点?
为什么我说什么你都不愿意相信
为什么一直要把你的价值观套在我身上
为什么一直要扭曲我说的话的意思
为什么你永远不明白
为什么你永远是说的那一个人
为什么你永远不愿聆听?
你又不是我,你怎么可能会知道我在想什么
连我自己都不了解自己
你怎么可能会了解。
但至少
我真的不是你想象的那样
我不是一个没有感觉的人
你没看到的不代表没有发生过
你看到的也绝对不是事情的全部
客观一点
对我公平一点
好吗?
我恨这世界。
不公平的世界。
莫名其妙的世界。
近乎绝望的,可怜的世界。。。。
Friday, May 16, 2008
On the 15th, I went to Euro Fun Park, AGAIN!!
On the occasion of celebrating the birthday of two very special friend of mine.
Jia Yie and Susu, one on the 14th and the other on the 15th.
Same kaki, and with some friends that din join us for the previous time.
Eat your heart out Tze Yin, I know you are so jealous of me now. Hahaha~
But it was kinda tiring for me though, went for two tuitions in the afternoon which starts at 2.30 and ends at 7.00. And I went there right after tuition, without going back home and get change. The guys were like : "Eeeeeee, you so smelly~~"
Your head! I smell more fragrant than you all even without bathing.
And thanks to Lim who balanja-ed me waffle and kaya balls! I was complaining "Hungry hungry~I'm so hungry~" all the way and probably he couldn't take it anymore and decided to give me a treat. So nice of him.
And after that, we went for STEAMBOAT again!
I think the manager of the shop can already recognise us, cause we've been there for God-knows-how-many-times.
And here's some picture at the fun fair we took the last time we went.
I dunno why, but people seems to love puking on me.
KaiChien, Me and JiaYie~
Poser poser poser~

EURO WHEEL~
And here's some we took in school for Susu's birthday.
Happy 19th Birthday to our beloved Susu and Jia Yie!!
It's your last birthday with the initial "1".
While I still have 2 more to go!
I feel so young~
hahahahaha...
It's TEACHERS' DAY! Btw its my LAST teachers' day. Sighs.
We had a celebration in school. Not many people attended as usual, but the performance of the Upper 6 was a blast!
Guess what?
We had a fashion show!!
And the fashion show, is about how the teachers wear during the 70's ad 80's.
This two guys were posing like mad on the stage and trust me, if they were born 20 years earlier, they must be the hottest rock stars or idols among all the young girls!

That's Mr Yuki on the left, Mr Handsome on the right.

You should see their performance on stage. You will never ever forget that scene. So hilarious and the crowd was laughing all the way.
And the Upper 6 sitiing in the hall, decided to scream and cheer for them!
Everybody screamed at the top of our lungs and apparently I lost my voice after the fashion show. Haha.
To us, they look more like the students wanted to go to pub after school than teachers. And have you ever seen teachers posing everywhere they go?

Someone said : "Wah today must be the day that Mr Yuki looks most handsome in his life!"
Hahaha I couldn't agree more.

That's almost everybody involved after the fashion show. The rest changed back to school uniform way too fast and missed out the chance of taking picture together.
Too bad.
And most of the pictures are with my friends. I didn't take much picture cause my phone has very limited space. Shall grab it from my friends and post it here SOON.
I'm missing the fun now already....
heheh...Thanks to everybody that has made this concert(or whatever) a success!
Backstage crew, performers, photographers and everybody involved, YOU GUYS ROCK!!!
Monday, May 12, 2008
oh welllll.
Somebody
tagged me.See la, knowing that I've got major exam to struggle still wanna tag me.
No la actually, I like to kena tagged by people.Fun mah, no?
Hahaha...so here it goes:
* * * * * * * * * * * * * * * * * * * * * *
The Rules
Link to your tagger and post these rules.List eight (8) random facts about yourself.Tag eight people at the end of this post and list their names.
Fact
1
:I am actually very aggressive.I used to fight with my big brother when I was young. I pinch and punch and kick, and when I get really angry I actually do BITE.
Fact
2
:I can be very quiet when I want to be. Just that it seldom happens.
Fact
3:
I am actually not a big fan of chocolates. Most girls do but I'm kinda exceptional.Bro says: "oh, that's because you're not a girl mah!"Don't mind that elephant.
Fact
4

:
I read a lot and when I was younger I used to think that reading dictionary is fun.
Fact
5
:
I prefer to keep things to myself than sharing with others. I mean, even if you know what happened, you can't do anything also, so why bother?
Fact
6
:
I actually don't eat that much. Jennifer can testify that, her appetite is exactly double of mine.Oh wait.I think it's triple.
Fact
7
:
There are 2 person in school now that has become my daddy. Very long story, I now call both of them daddy. Hahaha so now I actually have 4 fathers, including my biological father and my Father in heaven. I'm gonna have my fifth when I get married one day.
Fact
8
:
I actually cry a lot and get hurt very easily. So don't evr try to make me cry. Its definitely going to drown you.
Pheww~It took me one hour to complete this tag.Haha.
Tagging: whoever wanna be tagged. Oh and can I tagged you back, miss Jenni-hua?
Wednesday, May 7, 2008
Today we have 2 periods without teacher after recess. And the whole class was just as noisy as supermarket. Wait, I think we are way louder than that.
The whole block only our class was using the classroom, the bio dudes are having some experiment and lecture class in the labs.
And we, the physics people, are having so much fun in our classroom.
The guys were wrestling in the class!
I wonder why, but guys seems to love this kind of game a lot. That's my dad on the left and Mr Shinn on the right. The other pair sitting next to them also cant wait to join the fun.
And when Mr Shinn gets tired, Yuki took his turn to challenge my dad.
Apparently, Mr Shinn turned out to be the strongest among them.
I thought my dad would beat him, but he didn't. Sigh.

* * * * * * * * * * * * * * * * * * * * * * * *
Oh and by the way any of you remember the song called "little bee" in Chinese?
Krox loves singing it in class when he is bored. Basically nobody would bother but today, amazingly, our Mr shinn aka LaoDa sang along with him, with super cute motion!

Imagine krOx flapping his arms and act like a little bee. The first thing you'd say must be : "oh, cute~"

But when LaoDa did that, the whole class was stunned. Nobody made a sound, and the whole class was silent for a few seconds.

It was rather......scary.

But we burst into laughter soon after and gave him a round of applause!
That must be a record for him, he used to act macho in class.
Just so you know, he blushed when we teased him about that.
He spoiled his own reputation. His image of a very, so called, "fierce" person, is totally gone by now.
Best thing is, the whole class calls him "little bee" now!

Kinda pity him.
XD

* * * * * * * * * * * * * * * * * * * * * * * *

Just now when I open the mailbox of my house, I found this super cute thing inside!

Front.

Back.
Then only I realise it's from my church youth fellowship!
Super cute thing.
It is actually an invitation card inviting the youths to join the group bible study thing, but the picture in front is just way too colourful, and cute!
I even thought it was from kindergarten or something. Silly me. Haha.
Oh by the way, any non Christians wanna join? It'd be extremely fun, do come along if you're interested. Sunday from 2 to 4 pm, on MAY 11,25 ; JUNE 8 , 22; JULY 6,20 for this group bible exploration.