Overview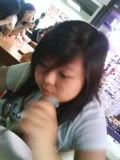 Indulge In Food
My Friendster Account which doesnt exists anymore
My Facebook Account
23rd Dec
Born and grew up in JB
Christian.
=)
[leave your msg at chatbox~ ]
Sunday, August 30, 2009
Just realised that I've loose tracks of many of my good friends' life.
No, it's so not a good thing.
I guess distance is really a problem, or maybe because I'm spending lesser and lesser time online nowadays.
sigh. BIG ONE.
I miss my convent buddies, I guess, no wait, I HOPE they miss me the same way I missed them too. But how strange, people whom you talk to most of the time during those days could appear to be the one who makes you feel uncomfortable to be with now.
Weird, but common. And not funny at all.
I wish i could turn back time. I wish I have a time machine. Then I would treasure them more and take more effort to keep in touch with them.
But it all seems like rubbish now. Its way too late now.
I guess I've gotta learn this lesson and start to really KEEP IN TOUCH with people I really treasure starting from this second onwards.
I miss all of you, so so so much.
[I wish i could turn back time. I wish I have a time machine.]
Thursday, August 27, 2009
This whole week has been a major disaster to most of us, thanks to our mid term test.
I slept around 3 o'clock in the morning and woke up at 5 EVERYDAY, thanks to my oh-so-beloved
malay
roommate who needs to wake up early and have breakfast before
puasa
.
It shortens my sleeping time, I can sleep till 7.15 am if it wasn't for her.
Damn.
Last night was our first Computer programming test. 3 faculties were having the test at the same time, and so we did the test at our sports complex instead of our own faculty's lecture hall. And I tell you, the paper was SUPER DUPER TOUGH!!!
Reminds me of how I answered my chemistry paper back in Form 6.
Just. scribble. and. scribble. and. scribble.
Oh and the exam hall was super frizzing cold...my poor fingers were all frozen and shivering, which was totally unexpected since we are using our campus's sports complex which wasn't supposed to be this cold.
After that, as usual, its
CAMWHORING
TIME!!


Tadang!! the blacks and whites of FKE!! Ivy was taking picture and stephy was discriminated because she was wearing LONG SLEEVE and was not frozen like we did. hehe.
ahhhhh thats all for now. SO tired. As quoted by our famous JC boy,
" Life is meaningless. Uni is meaningless. Everything is meaningless. "
--
JC
Krox
(1989--present)
cant agree more.
haiz
.
Saturday, August 15, 2009
星期三下午和几个学长学姐们见了学园传道会的三位同工,大概大概了解了这一个组织。
有兴趣知道的话,
看看这个网址吧
~
然后就去MMU corner 吃晚餐。有饭类汤类面类等等等,俨然是个小型小贩中心。选择是很多没错啦,可是选择太多很容易让人无从选择,结果我竟然吃--经--济--饭!真是不可思议。。。
吃饱饭了就和Ivy聊天聊天聊天,聊到Victor提醒我们晚上有空手道练习要赶巴士才匆匆忙忙往最靠近的男生宿舍冲去。
结果很倒霉的,巴士竟然很不守时的提早跑掉了。可怜我们两个人就这样眼睁睁看着巴士从我们三百米外扬长离去。
顺带一提,本大学的校车很不准时,每次都很早跑掉的,然后也只有一趟,挤(真的是用挤的,而且是很挤很挤很挤很挤.....)不上巴士的话往往就得等到半个小时后才有第二辆巴士。
无计可施之下,只好打给认识的学长求救。
幸亏我们的学长人还蛮不错,感谢上帝,呵呵呵。
晚上的空手道练习,是累到.............
要练习upper block side block down block in block double punch front kick back kick,还有一大堆热身运动。
害我第二天早上手酸脚酸肚子酸屁股痛,到现在依然隐隐约约在酸痛着。
住我家楼下的马来女生还很搞笑的解释给我听,肌肉会酸痛是因为脂肪在分解。
靠。
练习的时候,我们三个(我,Ivy, kei kei )爱搞怪又怕被Master发现,所以就站到最后一排去。
可是很多学长也是抱着同样的心态,所以我们的身后通通都是学长,人不多但是多数都是和我同系,也认识的。
早知道他们也会站后面,我就不挑那个位子了。
Master教学的时候,有巡视学生的手势和姿势的习惯。
走到我身边的时候,他问我是不是第一次来练习。
后面的一大群学长们好像在参加抢答比赛,帮我回答了:"不是!!她不是第一次!!不过她只来过第一次的练习,然后就一直没有来了!!"
如你所愿,后面的人都笑得很灿烂。
虽然我也觉得还蛮好笑的,可是很尴尬耶!!!!
下次,绝对不要站最后一排!!
空手道练习完后,一大班人就往果汁很好喝的印度档报到。
这次是去另外一间,准确的位置我也不知道,反正有人载我就ok了。哈哈哈。
听一个学长介绍,有一种很神奇的印度煎饼,叫做-----ROTI HONDA!!!!
内馅是鸡蛋、芝士和香蕉。
本人比较胆小怕事,担心第二天会泻肚子所以不敢点,但据说还蛮好吃的。
一整个晚上听到了不少笑话,也发现到有些学长其实还蛮好骗的,哈哈哈哈。
* * * * * * * * * * * * *
今天去pc fair,买了laptop,还蛮值得的。
牌子是hp,价值2799,回扣一百大元,还送一大堆accessories,包括滑鼠、键盘保护套、滑鼠垫、耳机、cooling pad、五张空cd、cd盒,还有一支4GB的pen drive。
还有免费升级至4GBram,三年保证期。
最重要的是,外形不错哦,本人还蛮喜欢的。
改天再放照片上来吧~
噢噢噢噢,还有,那个推销员的弟弟也是和我同一间大学的耶~
不过很可惜是隔壁家另一个系的,我不认识。哈哈哈。
现在是晚上十点三十二分,我还有12题的Electric Circuit assignment要解决,看来又得通宵了。
我要去用力k书咯,大家也要好好加油哦。
Friday, August 7, 2009
Last night went yumcha with Ivan and Rachel, thank you Ivan for fetching us and thanks for the drinks too =)
And for the very first time of my life I experience the REAL DRIFTING.
Imagine the car turn 360 degree ON THE ROAD?? And you were in that darn car?
Man, it kills.
I almost peed in my pants weh...
That's exactly what happened last night, but we did it at a closed path somewhere near Jaya Jusco, so din create much trouble to the road.
But the security guard at that construction site kept looking at us and makes me super nervous. If he calls police all of us would be so dead loh.
Anyway, it was fun after all. The driver skills boleh tahan la. Hahahahaha.
Monday, August 3, 2009
有时候,不在你身边的人,依然是用着他们的方式,在另一个遥远陌生的国度,爱着你。
前天和我的好姐妹珍妮花聊到了感情问题的事。
她的思想比我成熟太多太多了。
可能因为经历过的大风大浪也比我多吧。
聊到了我们从前暗恋的男人们(可惜到最后依然只是好朋友),还有他现任的男朋友怎样怎样,也聊到了神对我的安排,还有一些.......秘密 =)
不过她的男朋友还蛮幼稚的,in a bad way。
至于神的计划,老实说,我看不到,也摸不清。
所以只好相信祂,然后,等。
阿花要我睁大眼睛看,如果喜欢的人有些性格上的缺陷是我所不能容忍的,不要犹豫,马上淘汰,不然以后会活得很辛苦。
我同意。
然后她叫我要祷告,不要坐着干等。
嗯。
我想除了我自己,大家的祷告我也很需要啊。
不知道为什么最近有一股很想恋爱的冲动。
可能因为看到身边的人都很幸福吧。
希望大家都能一直幸福下去咯。
但是我很谢谢阿花,在那么远的地方还是会关心我找到男朋友了没。
嗯,你应该还需要等很久才能放下心头大石。
哈哈哈哈哈。
有这样的好朋友,是神的祝福。
正确的来说,是神派来陪伴我的天使吧。
love you jenn!! come back soon, i miss u... =)
Sunday, August 2, 2009
To all my fellow Johoreans buddies, JOY TO THE WORLD, XIANG YI IS BACK!!
hahahaha. ok la perasan a bit. My mid sem break has been brought forward thanks to H1N1, which means I won't get to rest after my Test 1, and I can't go for holidays. How GREAT is that huh.
Anyway, here's some update.
2 weeks ago Jon and Ivan came to Melaka and paid me a visit! They brought me to yumcha at some random shop near Bukit Beruang on Monday night. My tea tested a bit funny but Jon's Tiramisu was nice!!
Wednesday night went for Satay Celup at Bachang with them again, and Ivan's cousin Julia. The food was great, better than that famous Capitol, I must say.
Only thing is that the stupid Ivan kept making fun of my good appetite. Ass la him.
Oh but no pictures, cause I was too busy eating my yummy satay. hahaha. Maybe shall ask him to bring me there again =)
Some of my lecture class has to be combined with other classes, due to some unknown reasons. So 3 out of 6 lecture class I'm joining with BEKE people, and also our beloved ex-ketua tingkatan aka JC aka xiao krox!

This picture is so so so so so so so so precious ok, cause this is probably the first time he is paying attention during lectures!!
Doesn't he deserve a round of applause?


And this is me, and my coursemate Cecillia, during some lab lessons. But both of us could not care less--the lecturer doesn't understands what she was trying to say also, I bet on 100 bucks.
This is most people do in her class : listening to music, or camwhoring. Oh and the guys are even worse, they just dozed off.

Went to Dataran Pahlawan, the newest shopping complex in Melaka ( idk, but I guess so) with Lee Mun on Tuesday. We wanted to buy a new bible since both of us did not bring our bible to Melaka. On our way we passed by the Christ Church of Melaka!! And saw lots and lots of overdecorated rickshaw with DiGi's yellow umbrella!! Wonder why they agree to use it on their rickshaw, so unmatching.......


oh and I saw these really cute watches in DP!!! wanted to buy one for myself but Mun kept saying its super childish..Ok I admit I'm a little too old for this..

That's all for now, hopefully will upodate more soon. Depends on how my holiday goes =)