Overview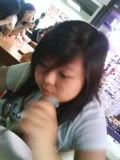 Indulge In Food
My Friendster Account which doesnt exists anymore
My Facebook Account
23rd Dec
Born and grew up in JB
Christian.
=)
[leave your msg at chatbox~ ]
Sunday, February 24, 2008
It's my 3rd drivng lesson today. I mean, the on-the-road lesson.
Yet still drive like a sanke, senget here senget there...
My pre-test is next Tuesday, but I wonder how am I going to pass the test.
Prayers, I need lots and lots of prayers.
I'm so darn shivering scared! >_<
Saturday, February 23, 2008
SSI long awaited sportsday is finally here!
23rd of February, a very very big day for my house, Raja Muda.
WE won the first place!!
After loosing like God-knows-how-many-years. (yes, this house has been the loosing team for many many years..)
Dare you say that its not us the newcomers who brought them luck? Hahaha...
The name of the house sounds so un-glam though, compared to the previous house I was in during secondary school. "St Xaviers" definitely sounds a whole lot better.
Speaking of Convent, it's been ages since i last visited the juniors. Awwww convent-sick again. How i miss those days.
And it made me miss Convent's sports day even more when the events started!
Can you imagine, only like, 1/4 of the students came for sports day?
And they are not really bothered about the events going on at the field.
Plus, nobody is cheering for their own team!
Goodness gracious, tha has never happened in Convent!
And so I decided to scream and cheer for my house like a maniac, like I used to be.
Ever so semangat St. Xavierers huh? =)
At first the people were like, oh gosh, what the heck is wrong with you screaming at the top of your voice?
But soon, some of the sixth formers deceided to join me!
And more and more people started to scream and cheer for their own team, and this sportsday is becoming more like a sportsday!
I'm very contagious, I know.
XD
But erm, the craziness is still not enough. If you saw me on sportsday this year and you think i'm crazy, gosh, you'd probably faint if you know how I was like for the past few sportsdays.
Just for your information, I joined marching AGAIN!
After being in a marching team for three years in secondary, and started teaching the juniors marching for 4 years since form 2, this is the lamest marching team I have ever been in.
I must say that the Convent's Form1s and Form2s can march way better than this team.
Way more semangat too.
Duh, I shoudn't say anymore.
Our initial intention on joining was just to get extra coco marks, so its perfectly alright if we march like crap.
Sorry if that pissed you off, I just wanna say what's on my mind.
Anyway, I had an enjoyable day with my friends!
According to them this is the first time they had so much fun during sportsday.
I was lucky to be in Convent, the ever-so-strong-team-spirit and our faithfulness to our houses and how we go crazy during sportsday. All these are very treasurable memories to me.
You wouldn't know how much i appreciate God for putting me into Convent.
His plans are perfect, don't you believe that.
Oh oh oh and I was in 4x100m P20 team B~~
First time ever I'm running for my house.
Hahahahahahahahaha of course we din win that, but we don't really mind. Not beyond expectations you know, the others like Patricea and Cui Shan, they don't run, they actually TELEPORT.
Hahahaha what a nice day~
photos will be updated soon.
Monday, February 18, 2008
原来我是一个那么重友情的人。
好多朋友都离开了,离开家,去一个遥远陌生的国度,去追寻自己的理想,自己的人生,自己的梦。
每当任何一个离开的时候,我都会躲起来偷偷掉泪。
很凄惨吧。
又没有肩膀可以靠。
抱着枕头就这样哭着哭着睡去。
有多少人值得我这样哭泣呢?
不多,但我肯定泪水的背后会是欢笑。
没有倾盆大雨哪来的绚丽彩虹。
是依赖性太强吗?
一下子,好朋友都不在身旁了。感觉,怪怪的。
可能是还不适应吧...
我在想,人,不都是需要依赖别人才能够继续生存下去吗?
一个人,太孤单了。
他们都说我看起来很坚强。
不都说了吗?"看起来"。
有多少人知道,我那装出来的坚强背后是一颗多么脆弱的心灵。
戴佩妮有一首歌,歌词有一句是这样的:我没有你想象得那么坚强,我只是擅长用微笑去伪装。
听到这句歌词,我的心完全被溶化了。
道破了我内心的感受,完全贴切。
她那独特的嗓音,完全带出了那种悲哀中带点沧桑的味道。
听听看吧,这首歌的歌名是单身潜逃。
很耐听得一首歌,让我哭了很久的一首歌。
_____________________________________
我没有你想像中那么 坚强
我只是擅长用微笑去伪装 不是吗
我没有你形容的那么勇敢
我偶尔也会慌
我也和你一样 曾经年少轻狂
受了一点伤
我们都是一样 相信永远不远
但坚持却有点难
就让记忆中的爱慢慢烧
烧痛了我们就逃
带着现实的铐
摺叠我剩余的微笑
通往没有你的轨道
就让记忆中的你慢慢老
老去了谁也得不到
带着我的祈祷
摺叠我累积的问号
开始一次的单身潜逃
带着我的祈祷
摺叠我累积的问号
开始一次的 单身潜逃
______________________________
啊~突然好像回到过去。
真的很讨厌长大。
Friday, February 15, 2008
Yesterday, 14th of February, was a BIG DAY for me.
Indeed, it was a big day for the whole 6A Sn 1 and some girls from Sn2.
Our beloved class monitor,
Mr krox aka JC
, organized an activity of exchanging presents. All participants draw number from krox and pair up with the other person of the opposite sex who has the same number, and exchange presents in front of the classroom when your number is called.
After exchanging presents,the guys even requested us girls to open up the presents in front of the class.
We burst into laughter when the first girl opened her present.
Guess what?
It was a toilet brush, with a roll of toilet tissue. Plus, nicely wrapped with a nice flower-print wrapper.
And you know what did the other guys bought?
One bought a scrubbing brush, another bought a toilet brush(the kind of brush that your mom used to brush toilet bowls), and others bought all kinds of funny kitchen ware and toiletries. Oh and one guy even bought a very funny looking goggles and he put it in a very very big box, and nicely wrapped.
I pity the girl who exchange presents with him.
Stupid guys.
Here's now another strong proof that guys has totally NO BRAIN.
Do not fight back, you know you are so agree with me.
But erm,I do hope that I will not get any present like this anymore in the future.
I don't think that anybody will ever give such present to a girl on Valentine's day.
That's really, really stupid!!
Surprising enough though.
That is the very special, one and only present I got from HIM.
A black colour mousetrap!
You should see how my face was like when I opened the wrapper. I wish I could stranggle him.
It was so nicely wrapped till I didn't expect I will get something like that.
So surprising huh.
I thank him for the present though, he put in alot of effort on wrapping it.
But I still feel like stranggling him. Hahahahaha...
I had a very fantastic Valentine's day this year! Thank you all the guys for those so called "presents".
But at the very least, we had a good laugh.
Hahahahahaha.
Happy Valentine's day!!
Tho it's already kinda late.
Sunday, February 10, 2008
新年快乐!!
Happy CNY!!!

Holidays are almost over, though i din really had a good rest but at least i had fun during this short break. Good enough la, compare to those who din go anywhere for hols.

Me and my family went to CAMERON HIGHLAND!!
The weather there was really, really cool.
All the people there has rosey pinky cheeks. Especially the kids. God knows how much i wanted to pinch them.
But it comes to a really disaster at night. It was so damn cold there that you will still shiver even wearing 2 jackets.
Dad says it dropped to 14(or maybe even less than) degree Celsius at night. It was freezling cold I tell you, but it's ok for me, I prefer freezling cold compare to hot burning sun.
By the way, nessa, how's de summer over there at Aussie?
XD

The house of orang asli.
Some random view.

Now here's the challenge. Pronounce it!

Me and the mascot of The Big Red Strawberry Farm. He looks funny huh.
And we had our tea break at the strawberry farm there. The deserts are heavenly~
The strawberry waffle is a must try! Sundae was great too. But don't order fried ice cream, its the factory product that you can get from any hypermarket out there.
Tomorrow will be the beginning of a whole new semester. Hope I will be more hardworking. Hahaha sounds tough heh?
Friday, February 1, 2008
人生,是充满试验充满挑战的。
很多事情,明明就没有在某人身上发生过,可是 总会有些人当成它发生过。
结果就把当事人搞得一楞一楞的。
像我妈吧,她老是觉得我常常花钱在买衣服上。
可是事实上,我已经好久好久没花她的钱了。
花的,都是我辛辛苦苦自己储蓄的钱。
可能是老糊涂,我也不怪她,但是每次和她出门,她总是不让我买衣服,再不然就是摆出很臭很臭的表情,让你不敢掏钱出来买。
说我每次出门都要买新衣。
我想说的是,妈,得空来看看我的衣橱吧。
在学校也常常会有很多的谣言满天飞,一大堆有的没的,烦都烦死。
人生,果然是充满试验充满挑战的。
可是我真的很不喜欢面对这些事情。
很累人。
被误会、被冤枉、被拖下水,等等等等。
任何一个都足以把我搞得身心俱惫。
真的真的很想逃,逃离这些烦人的事情。
自杀会是一个很快的途径吧?
可是我的宗教和我的良心不允许我这么做。
如果不是信仰,我可能早就不在了。
如果不是朋友的支持,我也没有可能撑得到现在。
反正都已经走了那么长的一段路,现在放弃不是很不值得吗。
半途而废,也不是我的风格。
所以我要坚强地走下去。
加油吧。
不能输。