Overview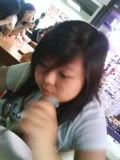 Indulge In Food
My Friendster Account which doesnt exists anymore
My Facebook Account
23rd Dec
Born and grew up in JB
Christian.
=)
[leave your msg at chatbox~ ]
Thursday, November 29, 2007
This afternoon before I go Omega for my final tuition for this year, I realise that the flower my flower-lover-dad planted has bloomed!!! Really amazed by the pretty-ness of it. I named it "Lily of the Valley". What a wonderful name heh?
hahaha...
Love it sooooo much. Show you bah, let u admire it with me.
And and and, today when i take bus home after tuition, I saw this very weird person.
Notice her shade?
Mwahahahaha...I wonder if the light in the bus is so bright that she has to put it on.
Some more she looks super
zhuai lorh...
It's wrong to judge people, but this fella...I had a really hard time controlling myself not to laugh...
And today my friend asked me again whether I want to go to her college's ball night or not. Hard for me to decide. RM 60 per pax! I really dun have that much with me. So i turn to my mom and asked her if she can sponsor me.
U bet, I kena scold from her saying that i always waste money and nag for hours. ARRGGHHH!!! And I'm really troubled. Hard for me to say "NO" when this is the third time she asked me to go, right?
Of course by now i have already told her I wouldn't be able to join the fun. Haix. Wonder what she's thinking now. Hope she undersands it.
Sigh..........................
What a terrible day........
@_@
Tuesday, November 27, 2007
Holidays are really boring.
Funny,isn't it. I wanted so much for a break when the school is on, and when i finally get my long awaited holidays I complain about the boredom.
Out of boredom. I watch a few Stephen Chow movies.
All are very funny show, i must say.
Had a good laugh this afternoon.
woo~ so happy...
Hahaha I'm so easily satisfied. Suang said we must laugh more often cause laughing is one of the ways to live longer. Whatever
lah
, but I think laughing really makes my day better. wee~
Oh and if you wanna watch movie for free, u can try out this website:
www.tom365.com
Sorry for bananas, it is in chinese subtitles.
no offence. =)
Monday, November 26, 2007
曾经有人问我。
"嗳,你为什么要写部落格?"
是咯。
问得真好。
为什么?
是为了要记录当时的心情吧?
自己的记性不是很好,很多当时的感触如果不记录下来就会忘记了。
闲时翻看以前写过的文章,就会想起当时的每一个细节。
然后不禁莞尔。
也许是自己曾经活在这个世界的证明。
留下一点点足迹。
证明我是存在的。

这样的理由,不算牵强吧?
很多人,活着只是为了活着。
很多人,活着活着不想活了。
很多人,活了等于没有活过。
不想变成很多人里面的其中一个。
所以我要用心的活。
生命不是你自己选择的。
是造物者赐的。
有机会活着,就要好好看看这神秘又美丽的世界。
不然,就白来了这一趟。
最近刚学会的,就是珍惜。
珍惜身边的一切。
人、事、物。
失去的时候,可以大声地对自己说:至少我拥有过。
人生真的很短。
三分之一的时间已经花在睡眠上。
剩下的还要分给吃饭刷牙洗澡。
算算看,一个人真正活在这个世界上的时间,只剩下多少?
所以,用心地活吧。
让自己的这一生没有遗憾。
Friday, November 23, 2007
刚才看了朋友的部落格。她的写作风格都是灰灰的,有种天空布满乌云,就快要下雨的感觉。
可是,这和我认识的她,截然不同。
很难联想到她的内心会是如此灰暗。
可能,像我之前说的吧?
每个人都戴着一副面具。
是为了保护自己吗?
还是不想让人知道自己的真面目?
我不知道。
某个程度上,我和她还蛮相像的。
每次有心事,都会藏在内心深处。
每当心情失落,都会仰望天空。
是在希望上天能派遣天使来慰籍我那受伤的心灵。
也期盼着有谁,愿意伸出双手,给我一个大大的拥抱。
好怀念中学时期的那一群朋友。
常常在第一时间看出我的不对劲。
第一时间跑来问我: 你没事吧?
爱逞强的我,总是挂上一个灿烂的微笑,回应说我很好,真的没事。
我是真的没事吗?
不是的。
我知道,不是的。
只是不爱,也不习惯让人一窥我的内心世界。
可能是自我保护意识太强吧?
可是我知道,我自己能够面对这些负面的情绪。
不说,是为了不让关心我的人担心。
说了,也不能改变什么。
可能,我给人的印象就是活力充沛,爱打爱闹,无忧无虑,活泼开朗....
那只是其中一面吧?
人,都是两面的。
越成长,越觉得人生是黑暗的。
可是,快乐也是这样过一天,悲伤也是这样过一天,为什么不让自己开心的度过每一天?
可是,真的觉得自己的能力有限。
笑容总是最好的面具。
好久没发自内心的微笑了。
多久,我也不记得了。
太久,太久了。
我想,我是真的累了。
有谁,愿意借我肩膀靠一靠?
Wednesday, November 21, 2007
Me,Hui En, Xy, Wc and Yn went for ice kacang last tuesday after library duty.
This is what happened to our ice kacang.
oooo~ the cikong taste is fantastic i tell u...
Monday, November 19, 2007
YAY YAY YAY~~ Today went to danga bay with my classmates...they are really nice i tell you, really had fun today! I believe that we are now closer friends compare to those times when i just came here.
Last night i stayed overnight at JZ's house after Kit's party. Den morning take bus from JZ's house to cs, meet up with krOx, suang, kim leong and x hui and went "tang chao" for lunch.
kimleong ordered this "hot coca-cola with ginger". He said it smells funny but he almost finished it. what the...just use your imagination skill, cocacola, boiling hot, add with ginger and lemon. grossss....
Actually we wanted to watch movie, but then the time is not suitable so we end up gai gai around at cs. and then, comes yew kit with his black ATOS. Imagine, 6 ppl,3 guys 3 girls, all squeezed into his car..almost cant breathe..It was fun but it was a really scary ride, we were so worried that traffic police might jump out and ask for duit kopi out of nowhere. Thank God it rained. Malaysian traffic police never come out for duit kopi when it's raining.(oopss.)
got nothing better to do at danga bay since it's raining out there, we went for some games. TA- DANG! de basketball-shooting-machine! This is currently the lowest record ever i think.


And the guys din wanna lose face in front of girls had another game! now the result is much better.
When the going gets tough,the tough goes shopping! here's de girls. de guys shy shy din take picture with us. thanks to krOx, he took this pic for us.

Oh and i bought this! nice leh? but i heard a guy said it's very ugly. smack him lah no manners.(from left:hui en, me, phay su.)
notice her price tag. =P
of course, we never let go the chance of taking picture in the toilet!
errmm, i'm not sure whether he's gonna see this picture anot. Hope he wont come and view my blog lo.or else i'll be so dead..btw, he's our "lao da"..reaaaally sorry if lao da is here reading this post..haha..dun blame me, it wasnt me who took this pic!! We're having our hi-tea at dunno what restaurant at danga bay by the way.

Amazingly, God stopped the rain! 10 of us went for cycling ecept jz. She thinks it's a waste of money. hmmm kinda agree with her, but it is not easy to get so many of us to go cycling together, and so i went cycling with them. hahaha and yea, we left JZ to shop alone in the festive hall.
actually we wanted to ride a 3 person bike,but then it's so hard to control,so we end up pairing up 2 by 2 for 2 person's bike. Yixiang with krOx, me with laoda, hui en with phay su, xianhui with kimleong (according to them, these 2 are playing broke back mountain, they were missing for the first 20 minutes...what happened,u guess la...), and shi jie with suang. It really required some skills to cycle with another person lo, i thought i was going to fall down but loongshing said must trust him..hahaha..of course it didn't happen, he really has got some skills. =)
Din take picture with them leh cos we were all busy cycling. when we passed by the seaside, they screamed like crazy people..All the people around just stared at us as if we are monkeys escaped from zoo..lolx..
It was super duper tiring, if u are at the front sit. LS complained that his hand very tired all along our ride. For me it's still ok, cos the people sitting in front has to use more energy, to balance the bike and so on, me sitting at the back was really enjoying, just that he blocked almost all the wind lo...
After the ride, everybody was screaming for the same thing---our butt cramped!! cant feel a thing when we got down form the bike. It's been really a while since i last cycle.hahahaha but it was really, really fun!!

took a pic with suang after that. here u go.
X hui, famous with his sweaty-ness. he scolded me "sam pat" for taking this picture....sobs....

I really had fun this 2 days. Thank you people for making this 2 days a total blast!!!
I'm grateful. =)
这两天都玩得很开心哦~十八号是友杰的生日,晚上一大班人一起出去吃火锅。然后啊,好选不选,选到一间离我家超级无敌远的火锅店.....可是因为是友杰的生日,一定要去的嘛。结果到了那里,找不到那间店,总共打了5通电话给健子,浪费了我不少宝贝的电话钱~~
这就是我们的寿星公啦~Jia Yie一直很想把友杰的头挤爆,真是个暴力狂....
不懂在哪里的火锅店,好像是Bukit Indah....
杯盘狼籍~

大和照~
本来楼上有三个席位是有客人的,可能我们这一群人太吵了吧,结果到后来整个二楼只剩下我们。哈哈哈哈...健子念人的功力真的不是盖的哦,大家都一致认同呐~不过她很好笑,全部食物她都拿来煎。呵呵,顺便透露一下,某某人不听劝告,竟然把馒头丢进汤里去煮!!大家心照不宣,我就不说是谁咯...哈哈...
晚上没有车回家,结果就硬硬挤去健子家过夜。她家的人都很早睡,十一点不到已经熄灯就寝了,还真是吓到了一下下。

本来是要买蛋糕请友杰的,后来不知道为什么没买成...不过我有做一张生日卡给他哦~本人认为是超级无敌美的...哈哈~
十八岁生日快乐喔!! =)
Saturday, November 17, 2007
I remember mentioning about second link marathon in my previous post. Here's some picture i took on that day.
Before the marathon starts. Did you see? Lat's cartoon at the end of the banner. Kinda small here but the real one is kinda funny. I mean, cute.
So, have you ever WALKED pass the plaza tols like we did? Imagine thousands of people squeezing their smelly bodies through the tols....
Run people, RUN!!!
After the runner get their drinks, they just throw the rubbish all around. The whole second link bridge is covered with broken paper cups. Irresponsible human beings.
And there's even a helicopter video-ing us. My first time appearing on news!! (p/s: omg i admire my shooting skill!! heheee)
And that's about it. It was really tiring to walk 10 km within 2 hours. Yea i din make it within the time limit, but that's ok, koko teacher promised a certificate for every participants. Beyond time limit also doesn't matter. =)
Oh btw, we all kena tipu by the kk teacher. He said we are only running for the 3km fun run when we register. But when we get the T-shirt and the code only we realise that we have to run for 10 km. Stupid banana assh*le.
But if you ever get the chance to join it, do join, it is really a fantastic experience. At least you will get to know how good your stamina is. I din regret though it almost killed me.
Thursday, November 15, 2007
------------------------------
今天是上课的最后一天了哦,可是懒惰的我情愿赖在暖窝里睡到自然醒。算是本人纪念一个学年结束的独特方式吧....
这个星期是这个学期的最后一个星期,虽然没有上课,但是大部分的同学都有来上课哦~
而且可以说是开学以来最好玩的一个星期,大伙儿都很开心地度过了这几天。虽然有些不舍,学期的结束也结束了今年最后一次大伙儿一起上课的时光。回想刚来这间学校报到时的那副菜鸟样,自己都忍不住莞尔。很庆幸能够认识这一班同学,也很庆幸自己选择了的这一条路是适合自己的。
好吧,让我再进行一次精彩的一星期大回顾吧~
星期一,健子和育文没来。一个是因为前一天去跑second link,脚痛不能来;另一个是没交通。两个buddy都没到校,让我失望了一下下...不过,幸好还有巧双、慧恩、佩舒、友杰等人陪我,不然我孤伶伶一个人一定会闷死。聊天聊到一半,某某老师竟然闯入我们班,叫我们去搬桌椅,帮考SPM的私人考生排桌椅。没有选择的余地,全班男女同学都被迫去当苦力。结果大家都搞到比冲凉还要湿,开始有点候悔,没事来学校干吗....不过我们的劳力不是白费的,那位老师后来请全班去食堂吃东西哦~超大方的...
星期三的下午,和几个朋友去Leisure Mall看Bee Movie。虽然有点幼稚,不过本人看得还相当愉快。整个电影院空荡荡的,不知道为什么...在闲逛的时候看到了两个教会的member,他们竟然也看同一部戏呐~原来幼稚的不只是我们...哈哈...
星期四,不知道是哪个同学带了一套中国象棋来学校。友杰和家豪决定挑一局,全班都围着观看。告诉你,这绝对绝对是我看过最好笑的一局,有点后悔没录下来,不然放上youtube的话,点播率一定过百万。友杰他根本是乱下一通,完全不考虑走了这一步棋下一步该怎么走。不按理牌出牌的下场,当然就是输得很难看咯。不过,家豪同学还真的有点被他扰乱阵脚,不防也不攻,都不知道该怎么下。加上友杰自己不停地制造笑料,全班同学都是笑着看他们下完这一局的。还有一件事,我说出来可不准笑。今天是我在这间学校第一次逃学哦!十二点多的时候,我和几个同学打算落跑,背着书包快到校门口时,被两个老师撞见了...超丢脸的...幸好老师没追究,只是叫我们回班而已。好丢脸啊~~
再也不敢做这种事了,以后传出去一定笑死人...
这个星期分考卷了,考得马马虎虎,虽然都有及格,可是并没有很满意。健子说得对,我真的要开始努力了。进不到心属的大学,什么也都完了,一年半的中六也白费了。
大家一起加油吧~~
Thursday, November 8, 2007
__________________________________________________________________
It's been ages since i last blogged. Thanks to the stupid exam. Last week was a terrible week. Many things happened, out of expectations. It just appear like a wind storm, strike us down and disappear.
Somebody very important of my bestie, not telling you who's the person, has passed away. It was a really unalarmed death, cause she's kinda healthy the day before. I know it hurts my friend so bad, cause it hurts me very badly, too. All of us cried during the service. To me, she's already more than a friend's mother, she is more like a friend, or maybe, a sister. She remebers everybody's birthday and never fail to greet her friends : Happy Birthday.
She's the strongest lady I've ever seen, bestest mom who loves and cares for her children very much even she is suffering from some kind of disease, which has tortured her for about 9 years. But she never complains, she face it with faith in God. Maybe God took her away and back to His side because He does not want her to suffer in this rotten world. Like my friend said, all of us love her, but God loves her more, that's why He took her back. I prefer to think it this way, at least you know she's now surrounded by angels and worshipping God with her sweetest voice in heaven happily.
It's hard for her child to accpet this bad news, but I know with God's love, they have conquer the fear. I guess parting is just part of life. All of us will experience it someday. And how stupid it is, my friend has to taste the bitterness and this young age.
It's been a week and two days after her death. In my deepest condolences, rest in peace, aunty. All of us will always miss you, and will never forget about what you've done in our lives...