Overview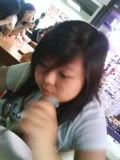 Indulge In Food
My Friendster Account which doesnt exists anymore
My Facebook Account
23rd Dec
Born and grew up in JB
Christian.
=)
[leave your msg at chatbox~ ]
Monday, March 8, 2010
SPRING FEST THIS YEAR WAS A HUGE SUCCESS!!
Thanks for all who contributed, in a way or another. Without all of you guys this event would not be as wonderful as it is. You guys really rock la!!
6.30 pm to 8..30 pm was some kind of expo time, there are some booths in front of dewan besar with all de details of chinese culture and bla bla bla. It was kinda boring in the beginning as all the participants were so lazy to wlak around and just sit on the ground chatting.
so, we decided to bring out or mascot of the event--财神爷 aka God of Fortune~ of course, with his lil helper Mr tiger..
It was definitely a right decision because once the crowd saw them, all gone crazy and all came together to get angpao from them!!
They really saved the expo, cant imagine whats gonna happen without them.
we also have tea master, traditional tea culture as presented by ah loke!
The big event starts at 8.30pm, at first we were quite worried that the attendance wont be as good as we expected but thank god everyrthing turn out great and the dewan besar was packed with people!! Praise to the Lord!!
It all ran well and we were really grateful for the success. Really appreciate all the help from all committees, AJK and the crew, it wouldnt have been successful without u all!!

Here's some of the pictures i stole from my friend. Thanks for being an awesome photographer, Jared, and thanks for willing to lend us your camera, JJ!!!



Victor and Patricia, awesome emcee =)
from nothing become a very pro team, UTeM 24 season drums!! you guys made us and made yourself proud!!!
Chinese Traditional Fan dance. Very very nice and energetic, love it!



The artists who came that night. They din ask for much pay as they know its pretty hard for us to organize this chinese event in a local Uni.
From left : Jeffrey庄惟翔,mr Amir ( pegawai kesenian dan kebudayaan, HEPA),Jym庄靖翼,Adrian陈凯旋。

Heard that Adrian was pretty nervous before he enters the hall. Did something really cute but kinda gave a shock to my friend outside the hall. Hahaha you go Adrian!! Hope to see more of your performance in future k~
I'm glad that the last minute decision of changing him to dress up as tiger was a really smart choice. He must be the most hyperactive tiger ever, I swear.
Threesome =)
Main committee (oh jia qi wasnt around, too bad~) with the mascots!!
That marks the end of the event. Although some of the programmes during expo ran out of schedule but thank God we managed to solve them without creating much havoc.
Am I looking forward for next year's event? Sure I am, but not with those irresponsible people and those who always make themself looks pro but in the end couldnt do a thing.