Overview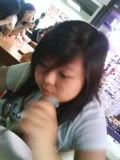 Indulge In Food
My Friendster Account which doesnt exists anymore
My Facebook Account
23rd Dec
Born and grew up in JB
Christian.
=)
[leave your msg at chatbox~ ]
Sunday, May 3, 2009
Went and watch [x-men origins : Wolverine] yesterday with ahbel.
It was SUPEEERRRRR NICE I tell you!!
definitely one of the must watch movie of 2009.
some of the scene was so hilarious and crazy. wont tell you, just go and catch the movie on your own. swear you wont regret. [ok, hint you abit, you'll see naked handsome man running wild....]
and we happened to be the first two who watched the movie in our gang! Hahahaha so proud of myself...
Met老大 义翔 佳怡and Ahkok at the P1W1max stall infront of Padini and yes, we showed off that we've watched X-men before all of them. Hahahaha and all of them were so jealous of us that we dun have to work on Sat and Sun.
Friday night went to Bukit Indah steamboat shop to celebrate my ex-president aka MR Vietnamese's birthday. I enjoyed myself and i hope everybody elses did, cause I was one of the person who started this whole event. Like ahma said, ORGANIZING CHAIRMAN...awww, shy shy...hahaha...
3 days of holidays are definitely not enough, but anyways, i rest alot and my cough ( yes, i coughed for God knows howmany weeks) finally stopped. Thank God~
and yupp. thats all for now. This blog shall be in hibernation for a week and den, I shall be back. =)