Overview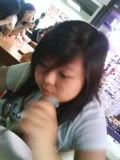 Indulge In Food
My Friendster Account which doesnt exists anymore
My Facebook Account
23rd Dec
Born and grew up in JB
Christian.
=)
[leave your msg at chatbox~ ]
Wednesday, August 29, 2007
everyday go to school, go tuition, do homework...sien ah...
some times really wonder, what's the point of going to school? since i'm learning the same(or more) thing in tuition class...(OMG for goodness sake pls don't ever show this page to our school teachers....)
Then everytime go for PA tuition sure fall asleep 1..haha...and i'm not the only one! almost half the class was day dreaming when he's talking. What about the other half? They were either chatting or already fell asleep....(plus, i catched 1 guy from my school sleeping in his tuition class! as in really SLEEPING!!)
All this people are wonderful. Laughing at them somehow makes me feel more energetic to continue the lesson. But still very sien ah!! 3 tuition classes every week....T_T
I wana escape from all this stupid stuff!!!
rawr~~