Overview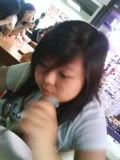 Indulge In Food
My Friendster Account which doesnt exists anymore
My Facebook Account
23rd Dec
Born and grew up in JB
Christian.
=)
[leave your msg at chatbox~ ]
Tuesday, November 10, 2009
so there's this mission trip I'll be going from the 15th to 23rd of November.
I was told that I'll be in charge of prayer and worship session, twice a day.
That's really, really, not an easy task for me to accomplish.
I dont mind singing, but when the music instruments come in, most of the time I cant catch the beat of the song and there's a very high probability that I might sing it OUT OF TUNE. As in, TOTALLY OUT.
Which is something that has been bothering me since, I dunno, very very long ago?
I just cant get the beats right.
So how am I going to lead worship?
And as for praying, that shouldn't be a big problem I guess, they did not mention how long should I pray for each session so I'll just say what I feel like saying and let the holy spirit comes in. That's it.
And, uh, I have to plan and list down what to pray for everyday and also who are suppose to fast and pray and etc.
The whole thing. Oh God. Its a really big responsibility as the prayer session eventually effects one's mood for that entire day. This time, I really cant screw it again.
Pray that I'll be able to plan things well, and pray that God will prepare our paths. He shall lead my way and our ways.
Emmanuel.
[the stress is.......inhuman.]