Overview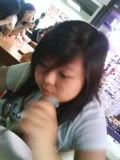 Indulge In Food
My Friendster Account which doesnt exists anymore
My Facebook Account
23rd Dec
Born and grew up in JB
Christian.
=)
[leave your msg at chatbox~ ]
Thursday, November 13, 2008
I had the greatest shock of my life today.
Shouldn't be this shocking but it ended up super duper shocking, perhaps because I didn't see it coming.
At all.
Oh dear.
Seems like I'm the last girl on earth that is still single.
[Damn it.]
Oh but erm, I shall put it this way.
Perhaps God wants EVERYBODY to love me rather than just PARTICULAR SOMEBODY, thats probably why.
Yeappp.
I'll stick with that for time being.
Jenn, wish you all the best =)
and dun bully that Mr J, like you always did to me.
Hahahaha.
And be really prepared to be grilled when you are back in Malaysia~
Not only by me, but the WHOLE church who always love you soooooo much.
Hugs. XD