Overview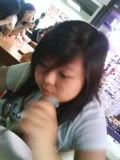 Indulge In Food
My Friendster Account which doesnt exists anymore
My Facebook Account
23rd Dec
Born and grew up in JB
Christian.
=)
[leave your msg at chatbox~ ]
Thursday, January 7, 2010
I'm meeting HEPA tmr afternoon to get budget for spring fest, does that sounds interesting to you?
Me, year 1, go Hal Ehwal Pelajar dan Alumni office, fight for higher budget!
Seriously, I'm dead worried. But I'm handling it with faith and prayer, so things should really go well since the penyelaras who's gonna lead me there is also a Christian ( yay!) and hopefuly God will hear our prayer and provide us more than we needed.
But the idea of meeting the people there is scary gila. Seems like tonight is gonna be a sleepless night again. D: