Overview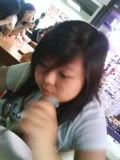 Indulge In Food
My Friendster Account which doesnt exists anymore
My Facebook Account
23rd Dec
Born and grew up in JB
Christian.
=)
[leave your msg at chatbox~ ]
Thursday, October 11, 2007
hmmm
...people do change, right?
As we go on, many people come in and out of our lives...And it makes all
de
difference...We learn a lot from these people, have fun together, do crazy things together and act like immature idiots...But soon, very soon, they will leave and just
disappear
in our lives...Some may still keep in touch, but some will just totally forget bout who you are. All the sweet memories shared together seems nothing to them..A very sad thing right, but what to do.. That's
LIFE
...We fell down, and stand up right at the spot we fell..It's the only way to grow stronger, isn't it? I just hope that someday, when i look back at my life, i will have
no regrets
.
11.25 am, 12
oct
.2007