Overview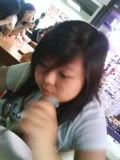 Indulge In Food
My Friendster Account which doesnt exists anymore
My Facebook Account
23rd Dec
Born and grew up in JB
Christian.
=)
[leave your msg at chatbox~ ]
Tuesday, November 27, 2007
Holidays are really boring.
Funny,isn't it. I wanted so much for a break when the school is on, and when i finally get my long awaited holidays I complain about the boredom.
Out of boredom. I watch a few Stephen Chow movies.
All are very funny show, i must say.
Had a good laugh this afternoon.
woo~ so happy...
Hahaha I'm so easily satisfied. Suang said we must laugh more often cause laughing is one of the ways to live longer. Whatever
lah
, but I think laughing really makes my day better. wee~
Oh and if you wanna watch movie for free, u can try out this website:
www.tom365.com
Sorry for bananas, it is in chinese subtitles.
no offence. =)