Overview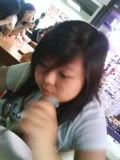 Indulge In Food
My Friendster Account which doesnt exists anymore
My Facebook Account
23rd Dec
Born and grew up in JB
Christian.
=)
[leave your msg at chatbox~ ]
Monday, December 3, 2007
星期天和家人去了一趟马六甲哦~
其实也没什么啦,就是妈咪想去休假一下,散散心,逛逛街,吃吃街边小食。
去了新开不久的Dataran Pahlawan,还有对面的Mahkota Parade.
两个广场都超多人的,而且很多都是新加坡游客。
Mahkota Parade 布置得很有圣诞气氛哦。不过我想说句公道话,圣诞节关圣诞老人什么事啊?圣诞节是为了纪念耶稣降生,不然为什么叫 "圣诞"? 英文名也是啊,CHRISTmas, it's all about christ, what the hell has to do with that red shirt old man and his pathetic reindeers?
Anyways,here's de picture of santa and his little helper. He looks really funny if you see from the side: a skinny guy with a big pillow stuffed in his shirt. You can take picture with him, it will cost you 6 dollars per picture. Only a few family took picture with him, and de rest of the time he just sit there and wave like an idiot. I really pity him, has to wear such stupid coat in such a hot weather.
Oh and this, lollipop!!!

要提醒大家的一点就是,在马六甲,不管是星期几,泊车固本是一定要准备的。
我们就是因为不知道星期天也要放固本,白白被罚了三十块钱。想起来就想骂三字经,路边又没放告示牌,谁知道要放固本呐?!
晚餐吃了Satay Celup,不是很适合我们的胃口,还害得我肚子折腾了整个晚上。
总的来说,还是很开心的。买了好多好多东西,血拼的战利品是多的咯....哈哈哈~
得空要再去马六甲玩!