Overview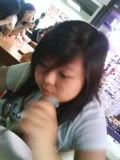 Indulge In Food
My Friendster Account which doesnt exists anymore
My Facebook Account
23rd Dec
Born and grew up in JB
Christian.
=)
[leave your msg at chatbox~ ]
Friday, June 19, 2009
So the list of Uni is out. And I got this stupid course called ELECTRICAL ENGINEERING (INDUSTRIAL POWER).
I feel like shit. Shit shit shit shit all the way and still shitting.
What the hell is wrong??
I DID NOT APPLY THIS DAMN COURSE CAN? I AM TOTALLY NOT INTERESTED IN ENGINEERING OK?
Anyway, anybody got any idea on what the hell is this?
Industrial power, as in what???
I totally freaked out when I found out the results.
Dear God, is that what you want me to do?
I feel damn pissed. Dun talk to me.