Overview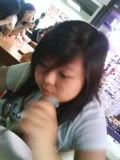 Indulge In Food
My Friendster Account which doesnt exists anymore
My Facebook Account
23rd Dec
Born and grew up in JB
Christian.
=)
[leave your msg at chatbox~ ]
Thursday, December 13, 2007
Today was a sucking day. SUCKS TO THE MAX.
Don't ask me why.
T_T
Cried so hard just now. Like everything that goes wrong is my fault.
YOU ASSHOLES GET THE FREAKING OUT OF MY WORLD!!!!!!!
Will update bout my camp next time. But not now. Totally no mood at all.
Don't talk to me, please leave me alone!!!!!