Overview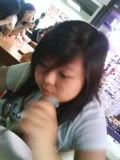 Indulge In Food
My Friendster Account which doesnt exists anymore
My Facebook Account
23rd Dec
Born and grew up in JB
Christian.
=)
[leave your msg at chatbox~ ]
Sunday, March 9, 2008
Stupid.
You know what?
I failed my driving test. T_T
Failed at the very first part of the panjak bukit session.
The damn vehicle did not pass the yellow box where it has to stop.
Those who took the exam before knows what I'm talking about.
I have two chances, but I did terribly for both.
I was like: "shiiiiiiiiiiiiiiiiiittttttttttttt" when I failed. Sobs.
Blame it on the rain! It was raining heavily and i couldn't really see where to stop.
And you know what happened next.
Luckily the on-the-road test was fine.
But still very unhappy with my performance.
Hng hng hng....
I want a bear hug~~