Overview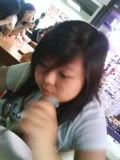 Indulge In Food
My Friendster Account which doesnt exists anymore
My Facebook Account
23rd Dec
Born and grew up in JB
Christian.
=)
[leave your msg at chatbox~ ]
Sunday, July 12, 2009
The computer in my uni's library is pretty.....weird.
I tried to open my blog but it ended up with lots and lots of funny codes, and the whole thing is black and white without any picture.
Weird.
Totally spoiled my mood to blog. stupid.
I'm so gonna bring my own laptop here!!
Then I wont have to fight for computer with so many people and wait like crazy.
Ahhhhhhhhh.
Bored.
[Uni life can be so boring without friends.]
I miss JB!