Overview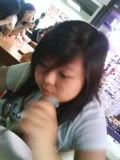 Indulge In Food
My Friendster Account which doesnt exists anymore
My Facebook Account
23rd Dec
Born and grew up in JB
Christian.
=)
[leave your msg at chatbox~ ]
Friday, August 7, 2009
Last night went yumcha with Ivan and Rachel, thank you Ivan for fetching us and thanks for the drinks too =)
And for the very first time of my life I experience the REAL DRIFTING.
Imagine the car turn 360 degree ON THE ROAD?? And you were in that darn car?
Man, it kills.
I almost peed in my pants weh...
That's exactly what happened last night, but we did it at a closed path somewhere near Jaya Jusco, so din create much trouble to the road.
But the security guard at that construction site kept looking at us and makes me super nervous. If he calls police all of us would be so dead loh.
Anyway, it was fun after all. The driver skills boleh tahan la. Hahahahaha.