Overview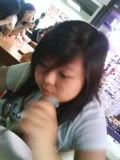 Indulge In Food
My Friendster Account which doesnt exists anymore
My Facebook Account
23rd Dec
Born and grew up in JB
Christian.
=)
[leave your msg at chatbox~ ]
Friday, December 28, 2007
Hahaha this is what happened to the flowers I got for my baptism.
All dried edy. But I don't wanna throw them away, so decided to dry them properly and then keep in a nice glass bottle. Still halfway processing it, will show y'all the results.
Mom said roses resemble love, pretty, but fades away very quickly. What a bitter quote. You can copy the pictures tho, if you think they are nice. I'd love to share the pictures. Actually, i took about ten pictures of the flowers. You can request for more if you want to. =D
I L-O-V-E R-O-S-E-S!