Overview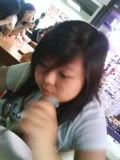 Indulge In Food
My Friendster Account which doesnt exists anymore
My Facebook Account
23rd Dec
Born and grew up in JB
Christian.
=)
[leave your msg at chatbox~ ]
Tuesday, December 18, 2007
Teenstreet 2007 Contagious people. Here's the challenge--spot me!
Woo! i'm back form TeenStreet camp! it was held in Kolej Tuanku Jaafar at Seremban, from 8th to 13th Dec. Sorry for delay. Should update bout that ealier.
IT-WAS-AMAZING!
The theme of the camp is being CONTAGIOUS. It's a Christian camp btw. Learn alot throughout this camp, and experience alot of things. Had so much fun during this camp, and if you are a Christian too, i would recommend you to join this camp next year. But the, you must be under 17 and above 13. Sad la, next year i'm not able to join dy T_T but newayz i still can register as helper. 18 and above are qualify to be one of the crew~
And i joined Dance and Drama team! woot! shall upload some of the pictures next time. I don't have much pictures with me now, still waiting fo
r the Teenstreet Crew to post me the DVD.
The first picture is taken at I-zone when we were playin Heart Attack. We created soooo much noise there. Hahaha luckily didn't kena scold.
The guy in yellow rain coat is our beloved smoky BIBLE MAN! HE claimed that he is the son of Darth Vader. Duhh only if you believe.
The worship band is called "1 a.m." They explained it before but i forgot the meaning. hahaha old people has poor memory, forgive me aite.
Next one is me and my NET members at the prayer fountian. From left, Lin Li->Te May->me->Pauline the coach->Cora->Amanda->Grace. Miss them soooo much.
And the whole group of people posing there, that's the JB FOLKS! We were one of the largest group there. 30++ people man!
It was such a memorable experience to me. Oh and, I was thrown into the pool! I think I'm the only person who kena pushed in through out the whole camp. SUEH....and my phone masuk air and gotta repair it. ..T_T sobs...
For more pictures and details of the camp, view this site:http://teenstreetmalaysia.blogspot.com/