Overview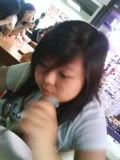 Indulge In Food
My Friendster Account which doesnt exists anymore
My Facebook Account
23rd Dec
Born and grew up in JB
Christian.
=)
[leave your msg at chatbox~ ]
Thursday, January 3, 2008
Cookies from Germany!! The topping is a little bit sourish, but it still tastes good! yum yum!
Mom's student just came back from Germany after visiting her Grandma there.
I think her grandma baked these cookies. Sooooo cute right?
After I ate half a packet of the cookies only I realised I haven't take any picture of it. Some other shapes like christmas tree and etc is already in my tummy. Hahaha but at least I managed to capture a few, good enough lah...
Cookies cookies cookies! Wonder if Cookie Monster loves this kind of cookie. Hahaha...