Overview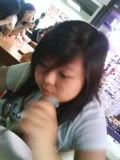 Indulge In Food
My Friendster Account which doesnt exists anymore
My Facebook Account
23rd Dec
Born and grew up in JB
Christian.
=)
[leave your msg at chatbox~ ]
Sunday, January 6, 2008
Today is
definitely
an exciting day for most of the youths who came for youth connections 2008 at
JB
Wesley
Methodist
church.
Ah kee and Edwin "tapao" chicken rice for us and Aunty Joyce made us yummy tuna sandwich for lunch.
We definitely enjoyed ourselves during lunch time!
Had so much fun with the rest of the youths. The lame people and their lame jokes that can freeze you to death. hahaha...
This is the first time that so many new people joined us, since the older badge went overseas to further their studies.
God listened to our prayer! We prayed so hard last year that God will send more of the youths to join us in the fellowship and God, as faithful as always, answered our prayer!
Praise be to God, man! His love is so amazing!
Hope that our youth fellowship will continue to grow stronger and more people will come and join us.
God is great! Amen!
=)