Overview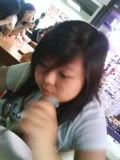 Indulge In Food
My Friendster Account which doesnt exists anymore
My Facebook Account
23rd Dec
Born and grew up in JB
Christian.
=)
[leave your msg at chatbox~ ]
Wednesday, September 2, 2009
Life is better when you stay with smart and nice and considerate people.
But most of the time life gets worse, especially when you have housemates like mine.
One heck of crazy people.
See what they did to our house!!!

Thus explains the ping ping pong pong sound I've been hearing all this while early inthe morning.
Damn.
And crazy enough, they bought a new gas stove!!!!
The felo already made it very clear that cooking is strictly prohibited in our hostel and these brilliant people are stretching their maximum abilities on breaking the rules.

What more can I say. sigh.
oh and btw, today's paper also very tough!!!! Shouldn't have listen to that lecturer who claims that the test is as easy as our usual tutorial questions. ARRGHHHHH~ I dun wan to fail~~~