Overview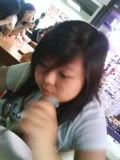 Indulge In Food
My Friendster Account which doesnt exists anymore
My Facebook Account
23rd Dec
Born and grew up in JB
Christian.
=)
[leave your msg at chatbox~ ]
Sunday, June 1, 2008
Watched the making of KungFu Panda just now.
And, yea, you bet.
I WANNA WATCH IT!!
The movie's release is on 5th of June, and it's a Thursday. Thanks to my tuition I wont be free to catch it on Thursday.
So i might be going on the 6th or 7th.
Anybody wanna join me? =)